Many of us see surveyors working with their tripods by the roadside but have a limited understanding of what it is they do or just how different and exciting their jobs can be.
We're on a mission to showcase geospatial science for schools and surveying! We're teaming up with a number of young surveyors around the world to bring you their favourite projects and what they love the most about working as a surveyor.
What is Surveying?
Surveying is the measurement and mapping of our surroundings using mathematics, specialised technology and equipment. Surveyors measure just about anything, from buildings and structures, to the land, the sky or the ocean bed. They even measure polar ice-caps!
Whilst surveyors use maths skills and technology to do their jobs, there is also a strong link to Geography. Surveyors use geographical inquiry skills on a daily basis to observe, question, and plan how to solve problems. They collect, record, and represent information and data from a variety of sources.
What are the Fundamental Skills of Surveyors?
Once they have this information, then they make interpretations and conclusions, then communicate these results and findings to a wide variety of audiences.
This series showcasing surveyors is designed to show students and teachers how STEM education for secondary schools curriculum can be bought alive in real-world examples.
Meet a Surveyor: Lauren Holland
Lauren is a Land Surveyor based in the United Kingdom. She has a Bachelor of Geography and her favourite subjects in high school were STEM geography, music, and food technology. Lauren has been able to work on many exciting projects as a surveyor, but her favourite project so far is pretty special; scanning Winston Churchill's Old War Office.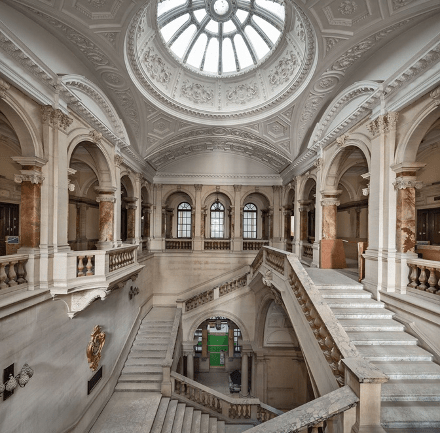 Inside the Old War Office
A High-Profile Project: The Old War Office
Positioned near the Houses of Parliament and Buckingham Palace, The Old War Office served as the offices for the British Army between 1857 and 1964. It served as the headquarters for Sir Winston Churchill, where he made many of the most important decisions of World War II.
When Lauren started work on the project, the building was being used by the Ministry of Defence, but Lauren and her team were brought in to help convert the Old War Office into London's first six-star hotel. As the building is Heritage protected, during the construction they needed to be very careful to ensure that everything that was taken out to be cleaned was put back in exactly the same place – this was where Lauren came in!
Lauren was the Leading Surveyor for one of two teams brought in to create a 3D model of the Old War Office.
This was no small task.
The building is huge – with over 400 rooms and 2 miles of corridors! The 3D scans also had to be constantly updated throughout the construction process to keep to architects up to date.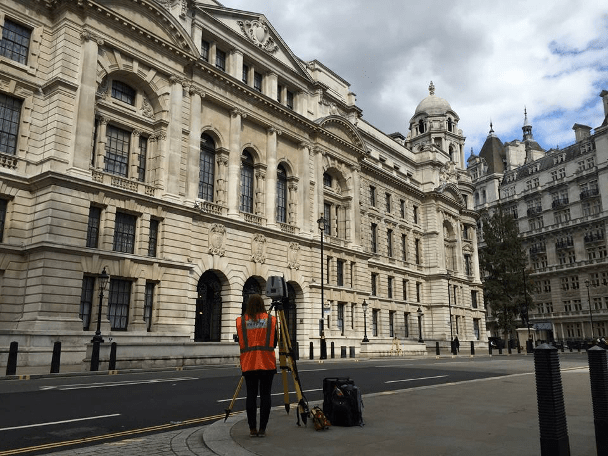 Lauren scanning the Old War Office, also known as Whitehall
Top Secret Surveying
Working on such an important building in the centre of London came with many unique challenges.
At the time Lauren was working, the building was still being used by the Ministry of Defence, which meant many of the rooms were classified and had high levels of security. Lauren had to sign a document under the Secrecy Act with the government and was accompanied by a security guard at all times whilst she was working.
To do the 3D scanning, Lauren had to connect her GPS system to ground control who were working outside the building. Being such a historic and high security part of London, the police would often approach ground control to find out what they were doing.
As part of the Old War Office faces Buckingham Palace – where the royal family lives – there were extra security measures involved when working on this part of the building. Every time Lauren had to open a window to complete a scan, she had to let the Police know in advance, so they didn't think it was an assassination attempt!
The windows themselves had almost never been opened and had bomb protection curtains – so were VERY heavy.
How Do You Manage such a Big Project?
To successfully complete this project, Lauren had to learn how to manage her team and carefully plan ahead. Draw inspiration from her unique process and apply it in your advanced drone programs for schools. Here's how she did it:
Due to the high-security nature of the building, she would have to let the Ministry of Defence know days in advance what rooms they had to scan so that security could make sure any classified information was hidden.
Establishing control points through installing a number of 'survey nails' around the building.
Collecting GPS points for these survey nails to give the building orientation. This would make sure that they were accurate in their work by using the nails as reference points. The engineers on site would also use the reference points during the construction process, so she had to make sure they were accurate!
Starting their work outside and moving internally once the survey nails had been completed and checked.
Attention to detail was also crucial on this project. Lauren had to complete lots of extra scans, but quickly and tactfully so she didn't waste too much time in one room.
The project gave her lots of experience in working with high-security access and how to communicate with the police and guards to get her work done.
STEM Geography: From Surveying to Virtual Reality
Through the internal and external scans they had carefully gathered on site, Lauren and her team created an intricately detailed 3D digital model of Winston Churchill's Old War Office. She did this by using a laser scanner, which took millions of data points, called a point cloud.
By georeferencing these points, the point cloud could be turned into a 3D Building Information Model (BIM).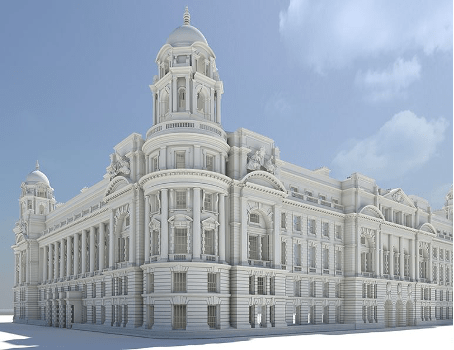 Once the model was completed, it could be sent to the architects and anyone else working on the design of the building. The 3D model was converted into Virtual Reality so that the client could walk around the Old War Office and monitor progress without having to come onto the site.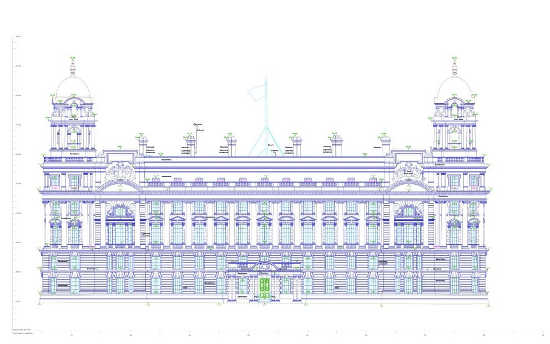 Through this project, Lauren learnt that she loved working on large projects and using laser scanners, GPS and total stations. She found it really special to work on such an important geographic and historic landmark and said that being able to turn all of the data she'd gathered into 3D models that can be used in virtual reality was just amazing!
Inspired by Lauren's story? Download the poster to display in your classroom.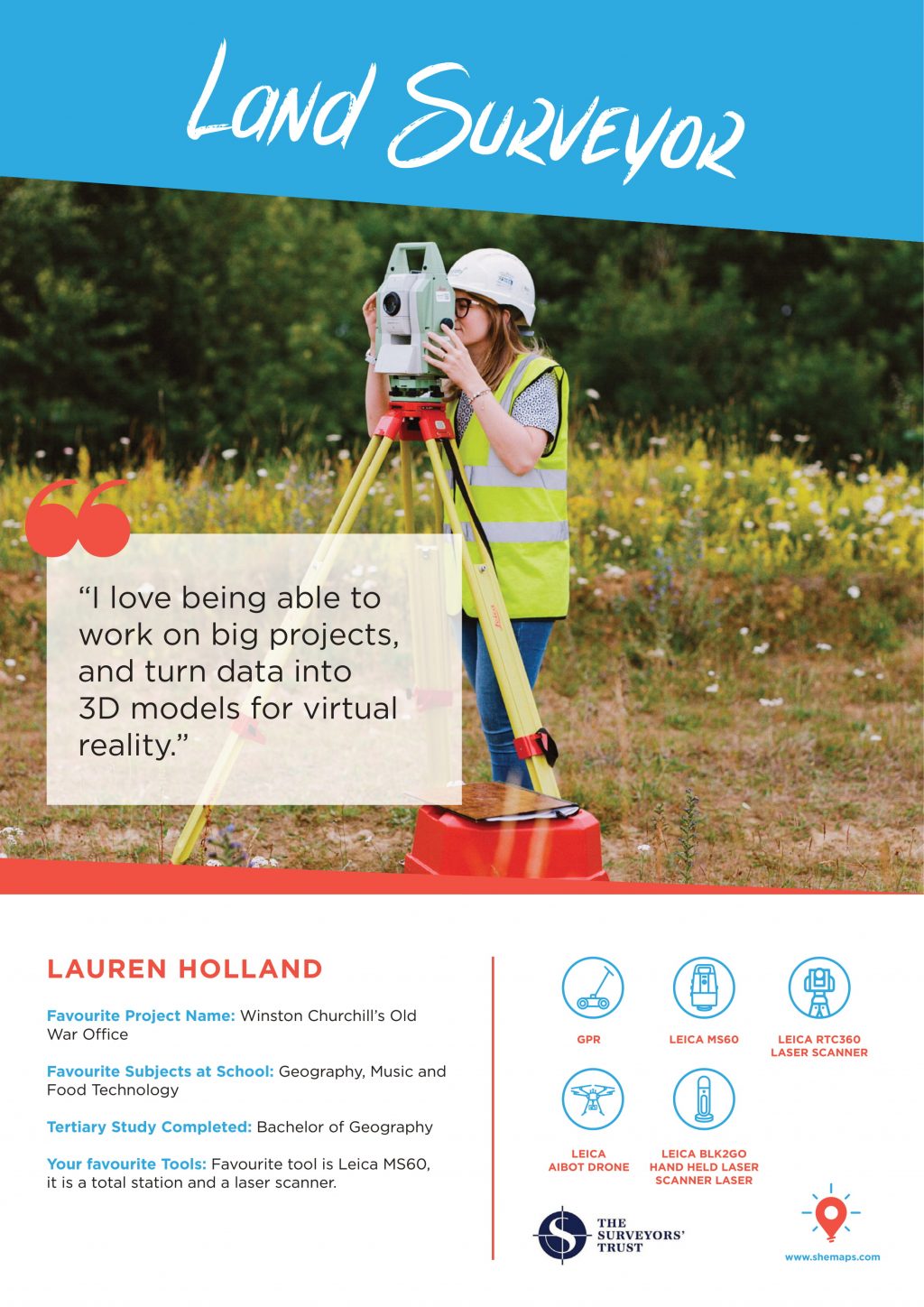 For more inspirational job success stories, check out our list of surprising careers with STEM geography and drones