In autumn of 1962, the future was propelled onto American TV screens through
The Jetsons. The show brought imagination, entertainment, and technology to the mainstream in a way that still defines how many people view the future. The 2062 world of the Jetson family consists of a 3 day work week, smart home technology, robot assistants and apparently still a very white, very nuclear family…but, we digress.
Of course, the image most synonymous with The Jetsons is that flying car.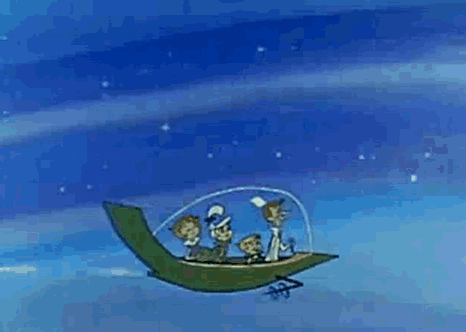 So where are we at with that? With all the media flying around (pun intended) about aerial vehicles, we decided to take a look at what's going on and what it means for geospatial technology.
A new type of air carrier
The air taxis that we talk about in this article have the ability to change the transportation industry. Or as Rodin Lyasoff puts it more eloquently, "In the past century, flight connected our planet… in the next, it will reconnect our local communities." Rodin Lyasoff is the CEO of A³, the advanced projects outpost of Airbus in Silicon Valley.
In the video below, Rodin lays out his future for the air taxi industry, in terms of making the technology cost-effective enough to enable it to scale. It's unlikely that we'll see Jetson-style flying cars en masse any time soon — federal aviation authorities worldwide are probably turning in their sleep at the thought. More on that later.
This type of aviation is still service-based, much like a passenger aircraft. Unlike a passenger aircraft, there will be the ability to select a  flight on demand from an app. Hence why people are using the term Uber for the sky — a ride-sharing air taxi service. Uber sees so much potential for this that they are using Melbourne, Los Angeles, and Dallas as their first test cities in 2023.
Ride-sharing meets business
In June, Uber Elevate announced that they plan to start introducing electric aircraft that will cost the same as an UberX for the same portion of the city that they travel across. A customer will transport themselves to one of Uber's 'Skyports' and fly across the most congested part of their journey in minutes, landing at another 'Skyport' where another form of Uber transportation will take them to their final destination.
Basically, a trip to the airport suddenly got a whole lot easier. This is mainly catering for cities where travelling from one end to the other can take hours. While the price point will still be too high for many to use, it's not so high that the technology becomes completely elitist.
For Melbourne,
the two routes Uber is looking at are Melbourne to Geelong and Melbourne CBD to Melbourne Airport. The city to airport route would cost approximately $50AUD and take around 10 minutes.
All of this would be in an "air taxi" a manned aircraft, operating a little like a plane with semi-automated technology. The idea is for their air taxis to become autonomous — this is where the technology really starts to rely on geospatial science to become safe enough to transport people.
Autonomous air vehicles
According to Diana Siegel, VP of Mobility Programs at Boeing's
Aurora Flight Sciences, autonomous flying technology needs another 5 to 10 years to reach an appropriate safety standard. We caught up with Diana at the Drones Synergies conference in Dubai recently to chat about what's involved in getting this kind of technology going and when we can expect it.
Hint: Diana's money is on autonomous air transportation being ready before autonomous ground transportation.
What we really like about Aurora's approach is how they look at STEM holistically. In the video below, their engineers talk about their experience working for Aurora and how they go about creating the technology of tomorrow.
Our favourite part: "Engineers are inherently creative people. They are creating a solution that's unknown. You're a problem solver… you must be inquisitive."
This is soundbite gold for any STEM educator. Teaching students that STEM is not just about practical skills like numeracy; or that it jumps straight to rational, critical thought. People in the STEM industry are inherently creative because STEM is all about discovery and creativity. This has always been our approach with
our courses and it's great to see this being reflected in innovative industries.
The geospatial science behind air taxis
The geospatial science behind air taxis is what makes the vehicle safe to fly in a modern city. A study done earlier this year by students at the Universidade Nova de Lisboa looked at using geospatial technology to find
adaptable and scalable air taxi routes in urban areas.
Scalable so that the technology continues to develop and become more accessible. And adaptable so that air taxis can logistically work in a safe and practical way.
Software and open-source data used in the study:
ArcGIS Pro (Esri 2018)
Open Street Map Data (2018)
Flight obstacle Maps (Federal Aviation Administration 2017)
The logistics of air taxi flight in cities involves the calculation of both 3D and static geofences. Geofences are virtual fences that block off areas that are different types of "no fly zones". Currently, geofences for unmanned aerial vehicles (drones) are fairly simple. DJI drones, for instance, come loaded with these geofences that include the likes of schools, prisons, cemeteries and more.
In reality, air taxi flight will involve the kind of geospatial technology that allows for dynamic layers of these kinds of geofences. These layers will need to adapt and change in real-time, according to the changing traffic conditions of the sky.
Picture this – you are flying to the airport in your autonomous air taxi when an emergency helicopter needs to get through. A centralised air traffic control system will need to be able to instantly communicate this to your air taxi's system, allowing it to reroute and communicate as other aircraft simultaneously also reroute. Sounds confusing? Like Diana Siegel says, the technology isn't there yet for this to work in cities. But, because we can easily conceive of it through the use of geospatial science, it's only a matter of time before it gets there.
If you're interested in getting started with geospatial science in the classroom, the Map My School course is perfect to show you how to use ArcGIS Pro (the software the students used in their study) in the classroom. No experience is required to take the course – let us know if you have any questions about what it entails by emailing us at [email protected].