We're sharing with you a mashup-up featuring 5 of the most surprising careers with drones as showcased during EduDrone 2021! Read more here.
Did you catch all of our amazing presenters at EduDrone? From a selection of superstar educators, to engineers, archaeologists, geospatial scientists, and even a fashion designer!
EduDrone demonstrated the astonishing diversity of career pathways that can emerge through studying STEM education for secondary schools and working with drones. 
Missed it? Don't stress! Each month in the lead up to EduDrone 2021, we'll be releasing a talk from EduDrone 2020! Tune in each month to get your fix of STEM-spiration. We hope this will keep the ideas flowing all the way through until EduDrone 2021!
This week, to coincide with National Careers Week, we're releasing a mashup-up featuring some of the most surprising drone careers showcased during EduDrone 2020! 
1. Designing Reef-Ready Drones with Dr. Jon Kok
We know that drones can be used to monitor coral reef ecosystems like the Great Barrier Reef (this is what co-founder of She Maps, Dr. Karen Joyce, does). But did you ever think about what kind of special drones might be needed to study the reef?
Dr. Jon Kok is a research engineer at the Australian Institute of Marine Science (AIMS) who designs and tests drones specifically for the challenges of flying over water.
There are lots of things that a marine research station would want to use drones for – creating underwater terrain maps, mapping live coral cover, creating 3D digital reefs, seagrass mapping for dugongs, monitoring marine infrastructure, and responding to crisis events like oil spills. But to work out whether it is even possible for drones to be useful for these many different tasks, they need to be tested rigorously. Jon's job is to evaluate how useful drones can be to help research around the Great Barrier Reef.
This requires a lot of mission planning and testing! When Jon heads out to sea he fills up the boat with as many drones as he can, and then conducts testing to investigate the different applications that drones can be used for. He bridges the gap between the tools (drones) and the applications (studying the reef), as well as blending together engineering and science. An even bigger achievement is that throughout all his testing, he has only lost two drones to the sea!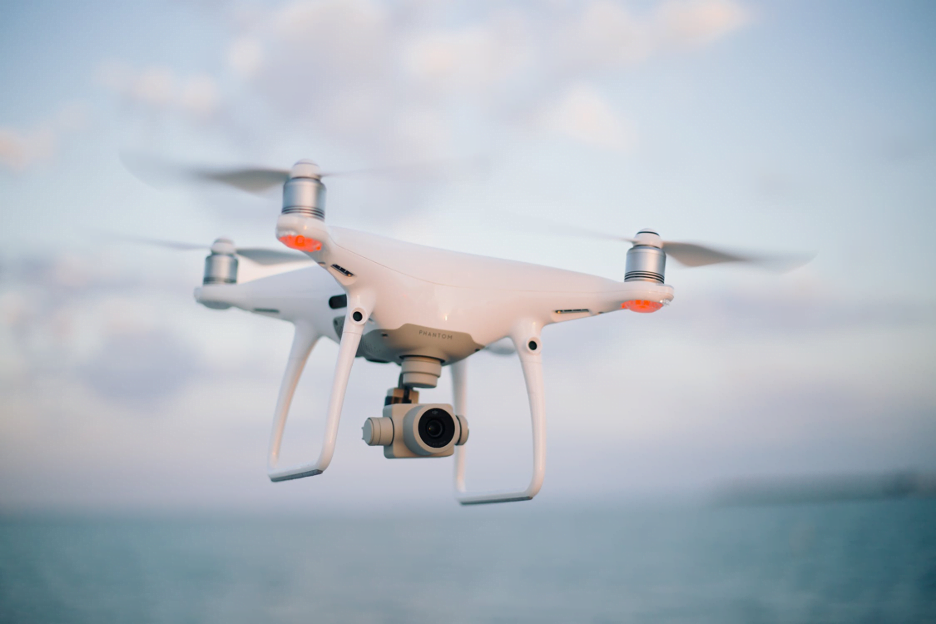 2. Flying for Archaeology with Anna Kreij
We think of drones as tools for the future, but did you know that they can also be used to study the past? Archaeologist Anna Kreij shared with us some of the many ways that drones can be used in Archaeology and Cultural Heritage Management. 
Archeologists are interested in understanding how people lived in the past. They do this by looking at the materials and evidence left behind. Traditionally, archeologists survey landscapes by foot, but drones allow archeologists to look at large areas of land much more efficiently. The unique birds eye view provides the opportunity to look at the landscape as a whole, and gives an idea of how archaeological sites are connected within the landscape.
Anna worked with the Kaiadilt peoples on their traditional land in northern Australia to document and understand their fish traps – large stone structures along the coastlines built to capture fish with the ingoing and outgoing tide. To better understand how the fish traps work, they used drones and photogrammetry to model sea levels.
Together, Anna and the Kaiadilt community found 13 fish traps in the area. Individual traps were up to 1m tall and 300m in length, and by modelling sea levels in GIS, they worked out that these traps were most likely 2000-3500 years old! Working with drones allows Archaeologists to partner with local communities for the efficient documentation of archaeological sites. This provides us with insights to the past, as well as the conservation of archaeological and heritage sites into the future.
3. Drone Photography Meets Fashion with Yumi Morrissey
Next we meet Yumi Morrissey, a fashion designer in Australia who uses beautiful aerial photography that she captures with her drone to create her own custom fabrics for her fashion label, Zilpah Tart. 
Yumi brought her first drone in 2018 just to fly recreationally. She loves photography and wanted to explore the different perspectives that drones could provide. She particularly loved photographing the ocean, as it was a continuously moving landscape, and so her pictures captured a singular moment in time. She used this as the inspiration for her 2018 Shoreline Collection, which was created using custom fabric printed with her drone photography.
The fabric was created using giant digital printers which captured the amazing detail of the photographs in print. There was a great reaction to the drones prints, as people loved the story of the fabric and the process involved in creating it. Many customers were excited to wear designs that featured photos of their favourite local spots. With her designs, Yumi is creating meaningful fashion that people hang on to and cherish rather than just sending to landfill at the end of the season, and hopes to change attitudes towards our connection with our clothes.
4. Using STEM Geography and Drones for Surveying with Narelle Underwood
Many of us see surveyors working with their tripods by the roadside but have a limited understanding of what it is they do or just how different and exciting their jobs can be. Narelle Underwood, the Surveyor General of New South Wales, shared with us the many exciting opportunities that come with working as a surveyor, including opportunities to fly drones. 
Surveying is the measurement of the world around us – mapping and capturing the built and natural environment. Here are just some of the different fields that you can work in as a surveyor: 
Marking out property boundaries for private and commercial estate

Hydrographic surveying – mapping the ocean floor 

Engineering and construction – mapping infrastructure

Tracking tectonic plate movements with geodetic surveying

Mining surveying – mapping tunnels underground 

Tracking the way that ice shifts in Antarctica 
Surveyors also take advantage of exciting emerging technologies to represent their data, these can include:
Digital Twins

– can use

digital twins

to see how a potential building project might influence the surrounding environment e.g. how a tall building might produce shade.

3D Models

– through 3D scanning buildings you can generate 3D virtual models to be able to conduct 'walk throughs'.

Point Clouds

– surveyors use drones to generate

point clouds

, which are many millions of points stitch together to create a 3D model.

Augmented and Virtual Reality

– so that on site you can pull out your phone to help locate an underground site.
If you're interested in a diverse career with high attention to detail and a good mix of field and office work – surveying could be the career for you! It's also a field that's bursting with opportunity – 95% of surveyors are employed within the first four months of graduating (many are actually employed during their final year of university)!
Check out our blog series on women in surveying!
5. Heading Into to Space with Adam Gilmour
Did you know that Australia has a thriving space industry? CEO of Gilmour Space Technologies, Adam Gilmour, joins us to share the ways in which the space industry will shape the future, and the need for students with drone flying abilities!
Gilmour Space Technologies build rockets in order to take small satellites into space. These satellites are used for a wide range of things, such as:
Internet of Things

– Ssed to bounce data between space and land in real time. For example, a farmer might need to know how full their tanks are across a property. Instead of driving around to figure it out, they can put sensors in the tanks which communicate via satellite directly to the farmers' phone or laptop. 

Broadband Communication

– Companies are launching more than 10,000 satellites into space to beam down broadband internet and provide access across the planet.

Farming and Mining

– Can use satellite data to monitor water, fertilizer, etc.

Monitoring Natural Disasters

– Satellites can be used to monitor how fires spread.

Autonomous Vehicles

– Need terabytes of data from satellites to work out where they are going.

Weather Forecasting

– Much of our weather forecasting is done from space.
Everybody, everyday, relies on information they receive from space – so rockets are pretty important! Building rockets needs many types of STEM such as mathematics, chemistry, physics, mechanical and electrical engineering. Adam highlights the importance of control engineers who actually program the rocket's flight. The same kind of algorithms that code drones, code rockets, so if you can control a drone you can control a rocket and the space industry may be for you! How cool is that?
These are just a small selection of some of the awesome careers to consider if you're excited about incorporating geospatial science for schools across all STEM subjects. There really is something for everyone – whether you're interested in building, flying, or using the images and data captured by drones! What other careers can you imagine drones playing a role either now or in the future? The possibilities are endless! 
Check out our mash-up of 5 Surprising Careers with Drones from EduDrone 2020 below! We hope you'll join us this year for EduDrone 2021 to hear more exciting examples of how drones are being used in the real world – and how to bring them into your classroom!