Forest ecosystems are the life and soul of our planet, accounting for 31% of global biodiversity. The sustainability of forests is crucial because they provide other ecosystems with the only essential source of oxygen.
To meet the global demand for wood products while simultaneously offering recreational, ecological, and climate change-fighting benefits, enormous areas of forest need to be managed carefully and sustainably.
That's where forestry professionals come in.   They are tasked to develop and maintain a forest management plan that incorporates an analysis of the land's acreage, boundaries, tree health, biodiversity, and monitoring plantations.  They routinely need to measure it, locate geological characteristics that can influence tree development, count trees that are about ready to be harvested, keep competitive undergrowth under control, and look for disease and pests. This time-consuming task involves managing millions of acres.
Drones are the new "go-to" tool in forestry, revolutionising how foresters go about their daily work. From gathering data on the health of trees to monitoring plantation, road, and river crossing conditions on the ground or performing pre-plant sprays, drones are busy changing this.  Drones can collect incredibly accurate data, save forest professionals a great deal of time, and reduce the need to have workers undertake risky operations on the ground. When outfitted with cameras and surface-mapping lasers, drones can also independently count trees, assess post-harvest waste, identify species, and create very accurate 3D maps of forests.
This following infographic outlines the different ways drones are used in forestry.
Drones in Forestry - Free Teacher Resources
The Drones in Forestry units of work created in partnership with She Maps and ForestLearning, allowing students in years 5-6 and 9-10 to explore how Australia's forests are sustainably managed using a variety of high-tech digital systems including drone and remote sensing technologies. 
Students explore and understand how drones and Geographic Information Systems (GIS) assist foresters including forest planners to manage the forest environments that provide sustainable and renewable resources for society.
During the program students complete a case study of how a forestry worker uses drones and digital systems to sustainably manage the forests. They will then complete a simulated forestry drone mission.
The Drones in Forestry teaching resources include:
Lesson sequence with hyperlinks to supporting resources
Australian Curriculum mapping document
Assessment rubrics mapped to the Australian Curriculum Achievement Standards
Student response booklets and activity sheets
Forest VR – virtual reality (VR) toolkit for schools, it showcases various forest environments and processing mills for forest products.
StoryMaps – interactive visual guides with embedded videos and mapwith
Resource Tour for Teachers
The following resource tour takes you through all that our teaching resources have to offer for Yr 5-6 and 9-10.
These resources are
engaging!
creative!
valuable!
Let's take a look
Year 5-6 students will
discover the various ways that digital systems help Australian forestry workers, 

design and carry out their own drone mission to address a forestry issue, 

design and build an app that plays like a game to help them remember STEM concepts and drone mapping
Year 9-10 students will
investigate and comprehend how drones and Geographic Information Systems (GIS) help foresters, including forest planners, manage the forest settings that provide sustainable and renewable resources for society

study digital forestry systems

apply systems thinking to

comprehend how they are handled while taking into account environmental, social, economic, and technical concerns

examine a case study that demonstrates how a forestry worker uses drones and digital systems will be the subject of student research and presentation
Multimedia teacher presentations with StoryMaps
Both primary and secondary units have a StoryMap to guide students through their learning.  Each chapter of the StoryMap is connected to the learning sequence.  This allows teachers to present to the whole class or students can access the resource on their own devices.
Take a look at the StoryMaps when you click on the following images.
A Virtual Reality Learning Opportunity with FOREST VR™

Winner 2022 AGTA Awards FOREST VR™ resources are included in both primary and secondary units of work. 
The virtual reality (VR) toolset for schools, ForestVR, was created by ForestLearning and features a variety of forest habitats and mills for processing wood products. Australian teachers can use ForestVR to give their pupils virtual reality experiences of forests, mills, 360-degree virtual tours, and picture environments.
Students benefit from learning about the steps involved in processing timber and how these renewable forest products are used in common objects like paper and board, buildings, and flooring. 
With the help of a mouse on a computer, smartboard, or the "magic window" on an iPad or smartphone, Forest Learning allows you to explore forests and machinery within the 360° area with a variety of immersive 360° videos.
Digital Systems for Sustainable Forestry - Years 5-6 Lesson Sequence
Examine the history of forestry, and then discover how 21st-century digital technology have enhanced forest management.
1. Early Forestry
Students investigate both indigenous and early settler forest management and how it affected the Australian environment. They look at the systems that were used to fell, transport and mill the timber over time.
2. Digital Systems in Forestry
Take a look at the different types of digital systems involved in Forestry.  
Including:
Machines used in timber harvesting

Barcode and GPS tracking systems

Automated optimisers

Drones – LiDAR, tree planting and aerial surveys
Each of these topics are explored by answering questions, creating flow charts and participating in activities that breakdown these systems and look at them in detail.
3. Case Study of Sarah Maddison
Using the Storymap of the same name, students explore the case study of Sarah Maddison with a set of guided questions that explore all aspects of Sarah's work with drone and GIS
4. Drone Mission Simulation
Students will go through the following steps: 
set up, 

plan, 

code

Complete
These 4 steps will lead students to successfully achieve a drone mission.  Teachers can choose a mission that suits their class. For example, identify which trees are not healthy and need attention, or check habitat trees for wildlife presence.
5. Design and Implement a Visually Programmed App
Students will create an app to assist drone pilots to survey forests. The app's goal is to allow users to choose the best path or pattern for their drone to follow in order to efficiently survey the forest without colliding with any trees.
Students work through the following steps: 
Setting the scene

Designing the user interface

Designing the user inputs and algorithms

Implementing the algorithms

Testing and refining the algorithms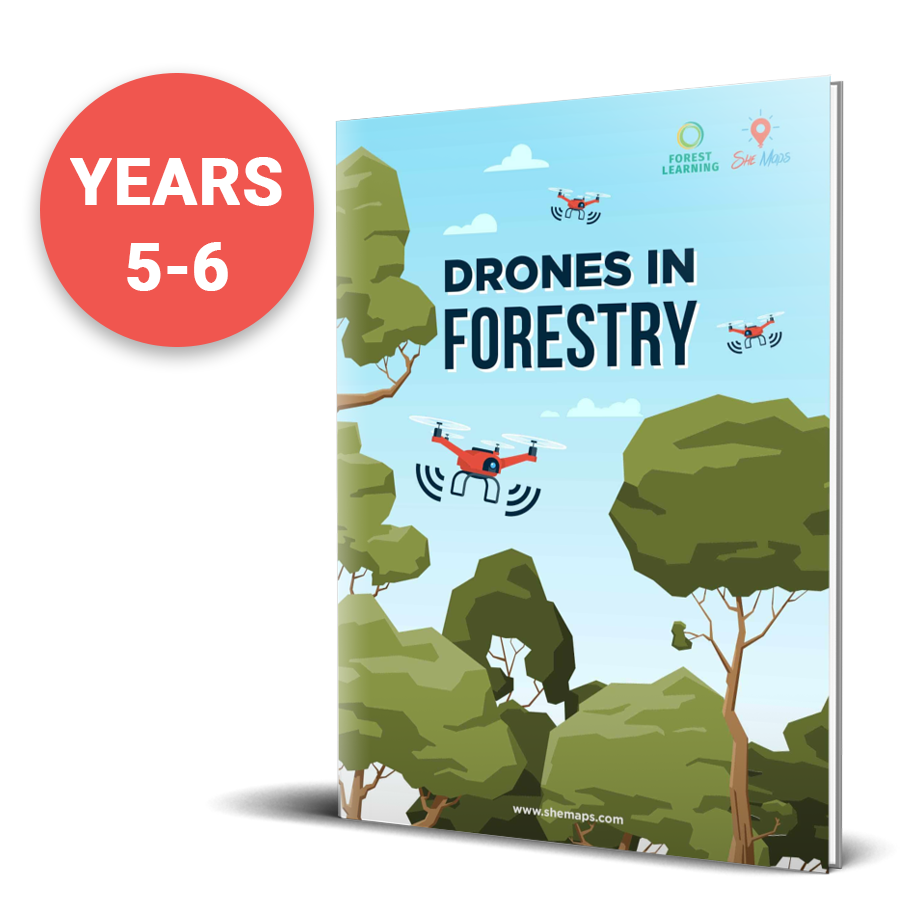 Digital Systems in Forestry - Years 9-10 Lesson Sequence
When identifying and resolving issues, systems thinking takes a comprehensive approach. The focal areas are viewed as parts of a system, and each interaction and relationship is examined to determine how it affects the overall system's performance.  In this unit students look at systems thinking within Forestry.
1. Systems in Forestry
In working groups students will study a particular system within forestry, creating a flowchart to demonstrate how the system works.  For example, renewable pine forests, spotted gum milling and plantation to paper system.
Students will create Input-Process-Output (IPO) flow chart to help explain their understanding of digital systems and how they relate to larger systems within forestry, this then leads to a group research project which includes completing a risk management plan.
2. Case Study of Mike Sutton
Each student builds their own website to demonstrate how Mike Sutton and his team utilise technology to manage NSW's forests sustainably. Students are encouraged to utilise HTML and CSS to develop their websites.
3. Drone Mission Simulation 
Students will go through the following steps: 
set up

plan

code

complete
These 4 steps will lead students to successfully achieve a drone mission.  Teachers can choose a task that suits their class. For example, plan a (simulated) mission to identify which areas of the forest are smouldering after a recent fire.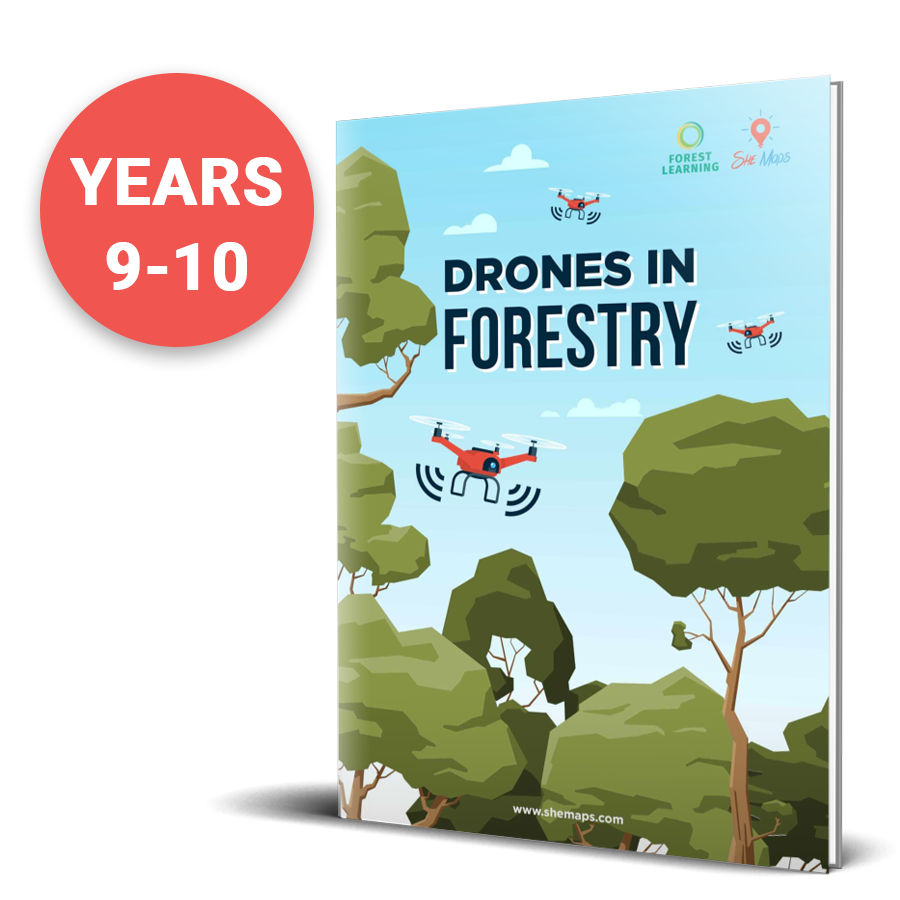 Learn more about ForestLearning
ForestLearning provides educators with free teaching resources relevant to the Australian Curriculum and with a focus on Australian forests and sustainable timber products.
Save precious planning time and plant the seeds of sustainability and our natural world in your K-12 classroom, by downloading ForestLearning teacher guides and photocopiable student workbooks. Discover the vital roles that renewable forests, wood and wood fibre products can play in creating a better, more sustainable world!