She Maps is proud to announce that our newest STEM education program is ready to teach. 
CODE, FLY, DELIVER allows students to investigate the world of drone delivery, one of the fastest-growing industries as the world looks to instant or same-day delivery.
How to Start a Drone Delivery Business
Students are taken through the design process to create their own drone delivery solution for an existing business or for a completely new idea.

They seek to investigate and understand how many different businesses now deliver their products or services by drone; what kind of distances are they flying; why types of drones they are using; are they rural or urban-based; and how does drone delivery solve a real-world problem. 
This STEM education unit of work covers a number of learning areas, Digital and Design Technologies, Literacy, HASS, Economics and Business, and walks the students through building an entrepreneurial business case, following the exact same steps, Australia's leading drone delivery business, Swoop Aero would follow to launch a new drone delivery network.
The Global Drone Delivery Market
Drone Delivery has been a work in progress, with many companies testing different processes since early 2003.   It is predicted that by 2030 the drone delivery market will reach $4.95 Billion (BIS Research).  
The need for instant delivery has expanded over the years and drones are at the forefront to answer that demand.  Many companies are getting very close to being able to deliver a service that allows customers to receive goods and services from Google, DHL, UPS, and Amazon.  
In Australia, drone delivery is becoming more prevalent.  Our education partner Swoop Aero is leading the way in healthcare delivery by drone.  From vaccine delivery in Vanuatu, to delivering healthcare services across regional QLD and Northern Territory.  
Our Industry Partner – Swoop Aero
Swoop Aero is an Australian drone-powered health logistics company, founded to transform the way the world moves essential supplies by making access to the air seamless. 
Swoop Aero is an impact-driven organisation bringing healthcare logistics into the 21st century by deploying bi-directional drone networks into the last and first mile medical health chain to enable the reliable provision and distribution of essential health supplies; including vaccines, routine medications, urgent pathology samples, and PPE equipment.  
The company is trusted to create value by sustainably transforming health supply chains to improve health outcomes in every community and country in which they operate.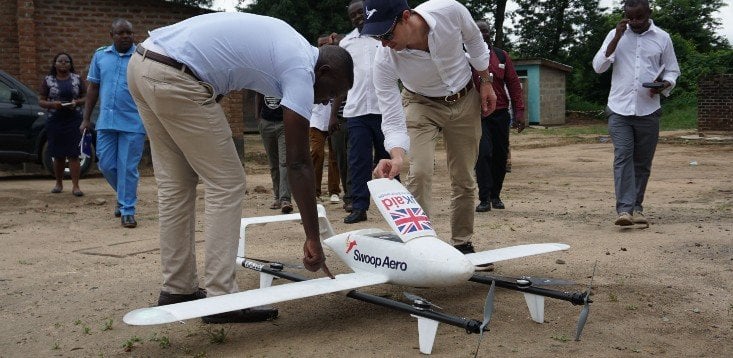 Ready-to-teach – STEM Teaching Resources
In this STEM Curriculum, Swoop Aero supports students (virtually) to work through the steps to creating a successful drone delivery business. The business idea that the students create can be helping to solve a challenge faced by an existing business or they can create a business that solves a completely new need.
The teaching resources were designed to encourage the students to look beyond just flying a drone.  It is about identifying a local problem in relation to delivery and logistics, whether that be involved in healthcare, construction, food, retail, or parcel delivery.  The students are challenged to uncover new opportunities and think critically about how drones can be used effectively to create a quicker and more efficient delivery system.
Learning Objectives 
To research the drone delivery industry in Australia
To understand the rules and regulations that all drones must follow.
To design a drone delivery network that suits an urban or rural area.
To create and design a drone to suit the needs of delivery.
To encourage the local community to accept drone delivery in their area for a certain purpose.
The Steps to Starting a Drone Delivery Network
Swoop Aero and She Maps take you and your class through a series of 5 steps to creating a successful drone delivery solution. This includes:
Operational Viability – Invent a drone delivery network solution for your local community!
Regulation and Legal Consideration – Think about who you would need approval from?
Research and Development – Use creativity to design a network and the drone that flies it! 
Community Engagement – The opportunity to reach out and integrate with the local community and gain their full support.
Recruitment – Find and engage with the talented people who will run the service. 
Finally, all of these steps come together as a presentation to the school, community, and/or small business owners. How will your students present their research, planning, and development to their peers and mentors?
CODE, FLY, DELIVER is not just about the drone.  There are a number of areas to consider when planning a solution to a local problem.  The options are endless, from library drones, to food delivery, healthcare options and construction.  She Maps knows that the solutions that students will come up with will have some great imagination behind them.  
If you are interested in learning more about Swoop Aero please head to their website or to read more about their amazing contributions to revolutionising healthcare, then click here.
Love She Maps STEM teaching resources? Then make sure you check out HealthCare in the Himalaya's – Drones to the Rescue.
How To Access This Unit Of Work?
There are 3 ways you can access our STEM teaching resources:

1. She Maps Members – If you are currently a She Maps Member, then simply log in to our online learning platform, ORBIT, and access the STEM teaching resources for free.  You can easily locate the Unit of Work under the Bonus Resources tab.
2. Become a She Maps Member – You can purchase a She Maps Membership for just A$240 per annum and access ALL She Maps teaching resources and teacher professional development. Click here to purchase now.

3. Purchase Code Fly Delivery – If it's just this particular unit of work that you'd like to purchase for just $39AUD then proceed by clicking here.