Drones, or unmanned aerial vehicles (UAVs), are becoming increasingly popular in various industries in Australia, such as mining, construction, delivery and search and rescue. They are being used for tasks such as crop mapping, aerial surveying, and wildlife monitoring, inspection and survey of mines, land and buildings survey, and goods delivery.
Drones can save time and money by avoiding the need to send humans into dangerous or hard-to-reach areas, and the data collected by drones can also be used to improve operations and increase efficiency. With advancements in technology, UAVs are becoming more advanced and versatile, increasing their potential applications in various industries in Australia.
Drone roadshow - bringing drones into the classroom
She Maps is offering 1 day professional learning workshops in 14 different Australian locations, both suburban and regional. These sessions are designed to help educators integrate technology and spatial thinking into their curriculum. They  are led by experienced instructors who provide a curriculum-aligned professional development that will help participants to:
safely teach with drones

interact with geospatial technologies (GIS)

connect with diverse industry professionals
What can you learn from an in-person She Maps professional learning session?
Drone safety at school and in the broader community.  How many people who purchase their first drone understand the rules and responsibilities they must adhere to?  This session covers both recreational flying as well as school restrictions and how to fly while following them inside a classroom. YES, you can legally conduct drone lessons inside, as long as you are following She Maps CASA accredited program. If you're unsure of how this is possible take a look at Can I fly My Drone Indoors? 

 First flights and block coding. Throughout the workshop you will observe and identify how to manage a class with drones.  From setting up the classroom, to battery management, safety brief (including pre-flight safety checks) and mission planning.  A She Maps workshop gives all the tips and information you need to safely and effectively guide students through manual flights and onto block coding to simulate a real world aerial survey.
Interact with geospatial technologies
How Cool is Your School? The workshop's second section aims to improve teachers' knowledge of geographic information systems (GIS). Our experienced instructors will take you through how to use satellite and/or drone data to calculate shade and create a map that mentions cartographic (mapping) conventions. This professional learning gives you a creative way to cover curriculum content in Science, Maths and geographical skills.  It encompasses the cross-curriculum priority  'Sustainability' and develops your students' critical and creative thinking.
Take a more in-depth look here – How Cool is Your School? and see how St Peters (Epping) used the competition to help support an inquiry unit on Flight.
Connect with diverse industry professionals
She Maps wants to connect teachers with industry professionals that are using this technology.  During the in-person workshop, there is the opportunity to hear from those within the industry and/or university professionals to develop a greater understanding of what STEM careers look like with drones and GIS.  This is then continued after the workshop is finished.  We want to assist schools and teachers to build partnerships and grow their Professional Learning Network, which includes not only industry professionals but other like-minded teachers and schools.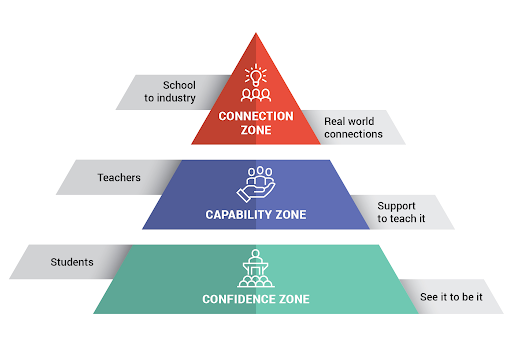 Online support while you plan your STEM program
After registering, you will get access to our learning portal for 2023, which has a variety of online materials, such as ready-to-teach lesson plans, recordings of past EduDrone presentations, and details on geospatial industry careers.
As you plan your program whether its creating a drone club for your Yr 6s or designing a STEM elective for Yr9s, She Maps wants to give you strong online support.
This includes:
technical setup – How do you set up drones so that when your students step into the classroom connection issues are minimised?  Students understand which drone they are flying and you have all your lesson management systems in place.
partnering for purpose – Through real-world problems that are mapped to the curriculum, teachers are given support as they grow in their ability to teach essential STEM industry skills.
EduDrone – access to industry presentations and educational seminars.  Troubleshooting sessions and more.
Now that you've attended the in-person workshop you can now use the She Maps Classroom Drone Essentials (CDE) teaching resources to bring drones and GIS into your classroom.  
In these units of work students will: 
explore the drone rules in relevant regulations
evaluate and implement safety processes for themselves, drones and others
identify different ways that drones are used
fly drones manually to prove that they have control and understanding of drone movement
create code to demonstrate automated drone flight in a simulated situation
collaboratively iterate and improve team solution
deliver a persuasive presentation to demonstrate understanding.  
This one day workshop is heavily subsidised by the Australian Government's Department of Education. It provides teachers of Years 5-10 the skills to bring drones and geospatial technologies into the classroom to solve authentic problems while applying skills for future STEM careers. 
Cost is $50 per teacher for this STEM workshop, access to teacher resources, and access to an online program for 2023.
Book your ticket today : https://shemaps.com/teacher-professional-learning-workshops/
Which drones work in the classroom?
You may or may not have drones sitting in a cupboard at your school.  The following articles will help you to understand and decide how you use your drones or whether you need to find some that work for you.